Posts Tagged 'Dead Skin Cells'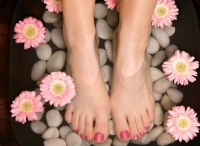 Pedicures sweeten your feet. Our feet work hard, and they deserve special treatment. The skin on our feet is naturally thicker than the skin on our bodies, so we need to use a different skin care regime to treat our feet. Try our sweet deal to pedicure perfect feet.
STEP ONE
Exfoliate dead skin cells and rough, flaky skin. Bliss Super Slough Scrub is the sweetest treatment you can give your feet. This scrub has a foaming action, while working to exfoliate dry skin and rough edges, particularly prominent around the heels and skin on the upper toes. We have found that good scrubs with foaming action are the easiest to apply. This is because as you scrub, the foaming action takes place. If you didn't have the foaming action, you wouldn't be able to tell if you gave each area of the skin an even application. With the foaming action, you won't overlook any spots on the feet. We like Bliss Super Slough Scrub because it has quite a bit of pumice action in addition to the foaming properties. Other skin care products that exfoliate with foaming action, only give a small amount of pumice scrubbing action. Bliss Super Slough Scrub gives us both. The smooth results and the candy fragrance instantly sweeten your feet. This is one of our favorite products. You won't want to run out of this one. We now know why.
STEP TWO
Moisturize, refresh, and rejuvenate your feet. Softening the skin after exfoliation is one of the best times to apply a foot cream. This way the cream doesn't just sit on top of dead skin cells. Now that you have used Bliss Super Slough Scrub, the next step is to apply L'Occitane Shea Butter Foot Cream. It is our best pick for any foot cream on the market. The cooling properties and lavender make this a great overnight treatment too. Instantly, you will see a transformation in your feet. L'Occitane Shea Butter Foot Cream outperformed other foot creams, and the cooling sensation is more prominent after a good scrub. The Shea Butter, as always, is one of the best softening ingredients for dry skin. This cream also contains castor oil, which has an anti-inflammatory effect. This is great for those who are pregnant, diabetic, or active in sports that regularly get swollen feet. This foot cream gets our highest rating because the broad spectrum of health and skin conditions served.
STEP THREE
Use pedicure tools to treat nails, cuticles, and calluses. Fortunately, pedicures are easier to do than manicures, especially for those that need to use pedicure tools like cuticle cutters. Tweezerman Pedicure Solution Kit is an all-in-one kit. This pedicure kit comes with a cuticle cutter, callous stone, pedicure files, wooden pedicure sticks, cleaning brush, and a red rolling case. After the scrub and foot cream, there is usually less to trim and scrub away. If there is any dry skin left behind after the first two pedicure steps, Tweezerman Pedicure Solution Kit will take care of the rest. Tip: It's a good idea to soak each of these tools in alcohol after each use. This way, fungi and other bacteria do not spread.
STEP FOUR
Refresh your feet. June Jacobs Peppermint Moisturizing Foot Mist is easily the best treatment available for tired, aching feet. This is great for uses between pedicures, especially at times like after a long day of work or athletic training. For those that do a lot of walking, this is a miracle mist. It's loaded with essential oils, peppermint extract, and vitamin E. The smell is terrific and the feet are invigorated.
STEP FIVE
Polish the toes to complete your pedicure. Before polishing your toes, use a nail polish remover to remove oils and other debris left from the pedicure treatment. Try DuWop Toe Polish Flip Flop. The color choices are bold and pretty, in candy colors. This polish, especially made for the feet, fights fungi and gives off a sweet, candy-looking finish to the toes. This is the final touch to the perfect pedicure, and it's the sweetest treat you can give your feet. Tip: Make sure nails are oil-free so the nail polish will adhere to the nail. Keep the foot cream on the rest of the foot, but remove the foot cream on the toenails before polishing.
PEDICURE CHEAT SHEET
Sometimes, we want a quick fix instead of time and hassle with a full pedicure regime. Barielle 60 Second Pedicure, Pomegranate Scent is for those who want smooth feet and cuticles, without having to use the pedicure tools. This is an excellent pedicure product for everyday treatment. This quick pedicure will keep your skin and cuticles healthy; it's easy to use and takes only seconds to achieve pedicure perfect results. It makes any pedicure last longer. This jar should last quite a while, saving you time, money, and hassle to keep your feet pretty.
At DailySkinCare.net, we have found the best skin care products and tips for treating your feet, giving you the perfect pedicure every time.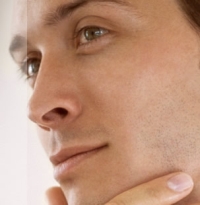 Do you want to know the secret for men's skin care? Its skin care products available that are strong enough for a man, made specifically for a man. Skin care isn't just for women. There are unlimited skin care products available on the market, targeting women's needs. However, skin care products for men target the special needs for man. Shaving, indoor, and outdoor activities, and anatomy and physiology of men are taken into consideration when making products for this special group. Some of the products are so effective, woman are buying them for themselves. Women's skin care products are packaged to look pleasant on a woman's vanity stand, while men's skin care products are packaged simple, yet yield a powerful and confident aesthetics to the product. Men's skin care products cater to the demands and packaging that meet their needs.
Powerful products that kill germs and combat odors are important in skin care and hygiene needs for men. A man's skin is thicker and responds differently than a women's skin does. These are important factors in finding the perfect skin care products for men. We have chosen the best skin care products available for men.
CLEANSE
You work hard, there's no question about that. Sometimes, you need a body scrub that will not only rid of the tough, dry, dead skin cells, but you need something to invigorate your senses and recharge you for another day's work. Molton Brown Re-Charge Black Pepper Body Wash is the perfect body scrub. The spicy scent and the tough sandpaper-like scrub will soon have you addicted. Rave reviews from Sunday Express Magazine and the London Evening Standard ES Magazine prove that there's nothing like it for man. According to London Evening Standard ES Magazine, you may be tempted to take a swig. You see, it really is dedicated to man.
DEODORIZE
Menscience Advanced Deodorant is one of the most advanced deodorants for powerful, potent protection. It is made with special ingredients that target odor without the use of alcohol or aluminum, which can cause damaging effects. The science behind this deodorant is specially blended and make just for the body odor needs of the male anatomy.
PROTECT
The Art Of Shaving After Shave Balm Unscented is alcohol free, making it the safest choice in after-shave. It is loaded with Vitamin C, soothing and refreshing to the skin and it's blended with essential oils. The aroma also has a therapeutic effect. This is one of the most advanced after-shave products on the market today.
SHAVING
The Art Of Shaving Pre-Shave Oil Sandalwood is perfect for smoothing the skin before a shave. The essential oils will soften the skin, and the olive oil ingredient proves that this is a great choice for pre-shave oil. Olive oil takes a while to penetrate the skin, so it lingers on the top layer of the skin, making this pre-shave get a great shaving prep. The sandalwood aroma has therapeutic effects, and the specifically blended oils are for all skin types, making it non-clogging to the pores.
DEEP MOISTURE FOR DRY HANDS
Jack Black Industrial Strength Hand Healer is great for dry, rough, cracked hands. One of the most respected, honorable, and genuine things a man can do is give a firm, honest handshake. You have deals to make and thanks to give, offer a hand that is smooth and shakable. This industrial strength hand cream will give you confidence when you offer your hand.
FOOT CARE
Please don't overlook foot care. We can make it simple for your skin care and hygienic needs. aMENity Foot Spray is simple to use, cools and refreshes with mint and moisturizes them with glycerin and other humectants. In addition, this helps your shoes remain fresh by purifying your feet. With a foot spray that purifies, refreshes, moisturizes, and helps your shoes, there is no need for a complicated foot care program. Just spray and be glad to have an uncomplicated foot care regime that women use.
ALL IN ONE STARTER KITS TO JUMP-START THE SKIN CARE NEEDS FOR MEN
Anthony Logistics is one of the best product lines for men's skin care. They are committed to providing health, skin, and body care for men. A good starter kit that includes your essential skin care needs is
Anthony Logistics Essentials Starter Kit. It includes cleanser and scrub, pre shave oil, facial moisturizer, body moisturizer, body cleansing gel, and lip balm. It is a great kit for men who want to start a skin care regime, and it comes with a travel bag, good for taking all your essentials with you.
At DailySkinCare.net, we continue to search for the best skin products and research them extensively before recommending them to you.