Posts Tagged 'skin imperfections'
Bruises are temporary skin imperfections. Most of them heal within two weeks in a healthy person. Sometimes bruises take a little longer in those with health relation problems. Sometimes bruises can be fatal. Let's take a look at what causes bruises and see if there are any underlining medical problems you need treated.
A bruise, also called a contusion, is an injury to biological tissue in which the capillaries are damaged, allowing blood to seep into the surrounding tissue. It is usually caused by blunt impact. Bruises often induce pain but are not normally dangerous. Sometimes bruises can be serious, leading to other more life threatening forms of hematoma, or can be associated with serious injuries, including fractures and internal bleeding. Minor bruises may be easily recognized, in people with light skin color, by their characteristic blue or purple appearance in the days following the injury.
Sometimes bruises may occur on patients with platelet or coagulation disorders. Unexplained bruising may be a warning sign of serious medical problems, such as leukemia, an infection, internal bleeding, or cancer. A deficiency in Vitamin C can also make a person more susceptible to bruises. In addition, bruising occurs in long-term glucocorticoid therapy can cause easy bruising.
A bruise is also called a contusion, and it forms because the soft tissues of your body have been bumped. Some people bruise easily, whereas others may have tougher skin tissue.
When these soft tissues are injured, small veins and capillaries under the skin sometimes break. Red blood cells leak out of these blood vessels. These red blood cells that collect under your skin cause that bluish, purplish, reddish, or blackish mark. That's where black-and-blue marks get their name – from their color under the skin.
Bruises go through colorful changes as the body begins to heal itself. The color changes mean that your body is metabolizing, or breaking down, the blood cells in the skin.
Most bruises will disappear after 2 weeks, and some go away even sooner. However, if a bruise does not go away after 2 weeks, get in touch with your doctor.
Here are some top rated skin care products for those who need to cover and treat bruises. If you bruise easily from medications or lifestyle, you will find these to be a great addition to you cosmetic bag or medicine cabinet.
Donell Super Skin K-Derm Gel is great for oily skin, and is loaded with vitamin K and arnica extract. This cream is also good for those with Rosacea. This is great for those who have dark pigment skin imperfections such as dark circles, bruises, spider veins, and broken capillaries. If you are one who suffers from broken capillaries around the nose, neck, or chest area, this is excellent for treating those. The algae extract and St. John's Wort helps the body to heal faster and make you feel better.
Donell Super Skin K-Derm Cream is reliable for those who have just had surgery. Those painful bruises will need the help of this cream. In addition, Donell Super Skin K-Derm is great at fighting spider veins, and broken capillaries, commonly found on the chest and neck area. Physicians highly recommend this one for those who just had laser treatment or other cosmetic procedure.
Jack Black Eye Balm Age Minimizing Gel is loaded with vitamins and minerals. Its potent Vitamin C not only helps to repair the bruise, but also helps to prevent them since a lack of Vitamin C causes bruises. The vitamins and extracts are potent enough to fight dark circles and black eyes. It also offers critical moisture and the chamomile helps calm the skin and your senses. It has no fragrant or color and it should last quite a while.
Dermablend Leg and Body Cover Buff is perfect for covering bruises on any area of the body. It is the most reliable brand on the market to hide bruises and other dark-pigmented skin conditions. When your bruises clear up, the Dermablend will be useful for other accidents in the future.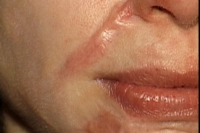 Skin regeneration is the key to scar treatment. Some of the products on the market today will help a scar heal faster, delivering ingredients known to increase cell turnover. In addition, there are exceptional makeup techniques and products made specifically for those with scars or other hard to cover skin imperfections.
Collagen, Rosehip seed oil, and hydrocortisone are some of the ingredients that reduce or eliminate the appearance of scar tissue. Collagen rebuilds skin tissue, rosehip seed oil helps to diminish general scarring, particularly helping common skin inflammations such as acne and Rosacea. Hydrocortisone helps relieve inflammation, common in fresh scars. With continued use of scar treatment, and the help of a little time, all scars will eventually heal.
The first step in any scar treatment is to increase moisture to the affected area. Moisture is what brings that vitamins and minerals to the wound, lubricating the area and increasing blood flow. The act of massaging and gently rubbing the scar has shown significant improvement in scar healing, over leaving it untouched. Secret ingredients like Mulberry in Boscia Jujube Rejuvenist Amino Body Wash acts as a skin lightener while offering intense moisture to the scar and wound area. This is a great way to jump-start a skin regime for scar treatment. Usually when a fresh scar forms, it ranges in tone from pink to black. Mulberry will lighten the scar, heal it, and offer the moisture needed.
Those with cosmetic surgery scars, acne scars, or other skin imperfections, N.V. Perricone High Potency Face Firming Activator has a two thumbs up rating from DailySkinCare.net. With DMAE and highly potent glycolic acids, this is one of the ways to get scars to heal from the inside out. This treatment is so effective, that it has become one of the top treatments for facial scar therapy today.
June Jacobs Elastin Collagen Serum is a top treatment for scar therapy. It encourages skin tissue to restore itself, while promoting deep repair and significantly. June Jacobs Elastin Collagen Serum has vitamins, minerals, collagen, Co-Q10, Tyrosine, and Rose Hips. Rose hips help with the scar discoloration, making this scar treatment on of the most profound treatments for those visuals of left behind wounds. This is another product we give a five star rating.
ScarGuard Lightener has both medical and homeopathic treatments. We like the effects of Hydrocortisone and the slippery-like mobility the skin has after application. This is excellent for those who have an active lifestyle or for those who play sports.
Sundari Omega 3 and Rose Hip Body Cleanser is great for those who need scar treatment for the body. The Rose hips will combat discoloration, and work on bringing out an even skin tone. This skin treatment stimulates skin renewal and it another excellent way to jump-start a scar treatment regime.
Sometimes, those with larger or deeper scars, turn to cosmetic surgery. After a cosmetic procedure, the skin is delicate and vulnerable. We have a skin care kit for those who need the extra help after a surgery.
BENEV Microdermabrasion Aftercare Kit is a kit dedicated to those who have just completed cosmetic surgery. It promotes wound healing, fights infection, and offers essential lipids for wound healing. It boosts the production of natural antimicrobial peptides that your skin usually emits to keep microorganisms at bay.
DermaBlend specializes in makeup for hard to camouflage areas, such as scars, tattoos, birthmarks, and other skin imperfections. DermaBlend offers corrective body and face makeup that has continued to maintain loyal customers over the years. This is one brand you will not give up– long after your scars have faded.
At DailySkinCare.net, we feel these skin care products the best on the market. If you should need or want more out of a scar treatment program, contact a dermatologist in your area. Meanwhile, we will continue to research the latest innovations for scar therapy and offer only the best to you.