Posts Tagged 'Collagen And Elastin'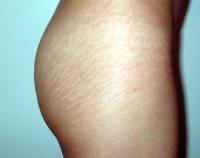 Stretch marks are a common problem for women. The colors range from pink to a silvery hue. They are caused by tearing of the dermis, and over time can diminish but not disappear completely. Stretch marks are the result of the rapid stretching of the skin associated with rapid growth that is common in puberty, or weight gain from pregnancy. Although the skin is fairly elastic, rapid stretching of the skin will leave permanent stretch marks. Stretch marks are generally associated with pregnancy, obesity, and can develop during rapid muscle growth from regular exercise. They first appear as reddish or purple lines, but tend to fade to a lighter color. The affected areas appear empty and soft to the touch.
Human skin has three different layers: the epidermis (outer layer), the dermis (middle layer), and the subcutaneous stratum (innermost layer). Stretch marks occur in the dermis, the resilient middle layer that helps the skin retain its shape. No stretch marks will form as long as there is support within the dermis. Stretching plays more of a role in where the marks occur and in what direction they run. Stretching alone is not the cause.
Stretch marks can appear anywhere on the body, but are most likely to appear in places where larger amounts of fat are stored. Most common places are the abdomen, breasts, upper arms, underarms, thighs, hips, and buttocks. They pose no health risk in and of themselves, and do not compromise the body's ability to function normally and repair itself.
The glucocorticoid hormones responsible for the development of stretch marks affect the epidermis by preventing the fibroblasts from forming collagen and elastin fibers, necessary to keep rapidly growing skin taut. This creates a lack of supportive material, as the skin is stretched and leads to dermal and epidermal tearing. If the epidermis and the dermis have been penetrated, laser will not remove the stretch marks.
Between 75% and 90% of women develop stretch marks to some degree during pregnancy. The sustained hormonal levels as a result of pregnancy usually means stretch marks may appear during the sixth or seventh month.
Only one randomized controlled study has been published which claimed to test whether oils or creams prevent the development of stretch marks. This study found a daily application of a cream containing centella asiatica extract, vitamin E, and collagen-elastin found that fewer stretch marks appeared during pregnancy. Another study, though lacking a placebo control, examined a cream containing vitamin E, panthenol, Hyaluronic acid, elastin, and menthol. It was associated with fewer stretch marks during pregnancy versus no treatment.
With this in mind, MD Skincare Hydra-Pure Firming Body Cream has the proven ingredient in this randomized control study. The centella asiatica ingredient is potent. Many women who have religiously used this ingredient, made in MD Skincare Hydra-Pure Firming Body Cream have seen little or no stretch marks after pregnancy. This is one of the best on the market to combat stretch marks. Tip: If you find that you are in the process of gaining weight, use this cream even though it may only be a small weight gain. Prevention is the key to fight future cellulite or cellulite current forming.
L'Occitane Almond Supple Skin Oil contains essential oils and nourishment to the skin to prevent stretch marks. The smell is remarkable, and some use it as a fragrant in addition to the smoothing effects. The product works especially well on the buttocks and thighs. This is one product you may find necessary to for the automatic shipment feature. Once it goes, you will definitely want more. Rave reviews everywhere for this one.
For ages, women have sworn on the benefits of Shea butter and cocoa butter to combat stretch marks during pregnancy. HydroPeptide Full Body Anti Aging Moisturizer With Stretch Mark Repair has those key ingredients plus a host of known chemicals to increase collagen production and repair skin. This skin care treatment goes on smooth, and within weeks, visible stretch marks disappear before your eyes. We highly recommended this for those who have severe stretch marks.
At DailySkinCare.net, we have found the perfect solutions to stretch marks. Here, we are dedicated to bringing you the best, delivered right to you.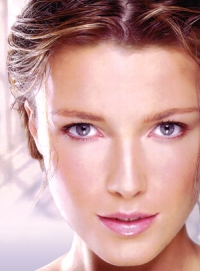 Patience is a virtue for those with mature and dry skin types. Oily and acne prone skin types have a faster cell turnover, repairing skin with quicker results. However, not so for mature and dry skin types. Those with an oily skin type age slower than those with mature or dry skin types do. That is the one of the advantages to having oily skin. Mature and dry skin types have a cell turnover rate of about 8-10 weeks. As we age, it takes our skin longer to repair and renew. It is important to give skin care products for mature and dry skin types adequate time to work.
Cleanse
The first step in a skin care regime for mature and dry skin is a hydrating cleanser. Mature and dry skin need the precious lipids that other cleansers tend to strip away. Sundari Neem and Copper Repairing Cream Cleanser for Dry Skin is cream cleanser that smoothes, tones, and repairs the skin. It is pH balanced, making it one of the best choices for mature, dry, and sensitive skin. Sundari skin care products have a high concentration of botanical ingredients, making it one of the most trusted brands for any skin type.
Exfoliate
Exfoliating is important in any skin care program, after an initial cleansing. Cellex-C Betaplex Smooth Skin Complex is a five star solution to pale, lifeless skin. Color and rosy cheeks are something mature and dry skin types lack. Some of the potent ingredients in Cellex-C Betaplex Smooth Skin Complex are alpha hydroxy acids plus beta hydroxy acid extracted from willow bark. Willow bark stimulates new cell formation by sloughing off old skin.
Treat
N.V. Perricone Advanced Face Firming Activator is excellent for treating fine lines and wrinkles. Collagen and elastin fibers begin to weaken as our skin ages. This causes wrinkles, and leaves the skin looking less plump, fresh, and healthy. Collagen and elastin molecules are too big to permeate the skin, but some ingredients provide assistance with helping your own skin to produce them. Some of the beneficial ingredients Perricone's Face Firming Activator are alpha lipoic acid to fight fine lines and wrinkles, and DMAE to tighten and tone the skin. N.V. Perricone M.D. skin care line has been one of the few well-researched products lines available, proven to give faster results in spite of the longer skin turnover time for mature and dry skin types.
Prevent and Protect
Sunscreen is necessary for any skin type at any age, but for mature and dry skin types, Orlane B21 Anti-Wrinkle Sun Cream For Face SPF 15 is excellent for preventing premature aging and it diminishes the appearance of sun-induced wrinkles. For those who have neglected sun protection for years, Orlane Anti-Wrinkle Sun Cream seems to reverse that damage and protects your skin while still enjoying the sun. The results are dramatic. The hydrating complex and vitamin B21 is one of the finest sun protections in skin care products available for mature and dry skin types, especially for those who still want to enjoy the sun.
StriVectin SD is one of the most successful products for mature dry skin, especially for those skin types that regularly wear makeup. StriVectin SD is rich in essential oils that mature and dry skin types need. Mature skin has a tendency to show signs of aging such as freckles, sun damage, and other age spots. StriVectin SD has Bearberry Extract an excellent compound to whiten the skin with regular use. Licorice is another ingredient that prevents new age spots, suppressing melanin formation. StriVectin SD has peppermint oil, good for any skin abrasions, whether it is acne flare-ups, or cracked, irritated skin. It reduces redness and other inflammation. A new addition to the StriVectin SD is the oil free version, great for those mature skin types still having some trouble with acne or other skin flare-ups. In addition, StriVectin SD is also good for those that wear makeup, for all skin types, as it is a smoothing primer, allowing the makeup to lay on the surface of the skin, where makeup belongs.
All In One
Exuviance SkinRise Morning Bionic Tonic is hands down an ultimate in those who want high quality skin care products that perform every function needed for any skin type, in particular for mature dry skin. This morning tonic wakes you up with a fresh scent of eucalyptus oil. This morning pad will cleanse tone, exfoliate, hydrate, and repair all in one. This pad is useful for the eye area as well as the rest of the face. This luxury item eliminates the need to buy multiple products for those mature and dry skin types. It is especially brilliant for those that do not suffer from specific skin conditions that need extra attention.
Dailyskincare.net provides the tried, true, and tested products available for any skin type. For mature and dry skin types, these are the most powerful products available now.