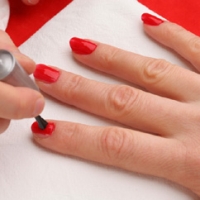 Manicures compliment pretty hands. Sometimes it is difficult maneuvering manicure tools, such as cutting cuticles with your non-dominant hand. Doing a manicure at home is simple and affordable. It only takes a couple of staples, using some of the finest skin care products available. These products should last quite a while, and the cosmetic tools have a lifetime guarantee. Here is a step-by-step approach to an easy, hassle-free manicure.
STEP ONE
Remove any nail polish with Barielle Acetone Free Nail Polish Remover. It is non-drying and contains Vitamin E. We like the easy to use pump and the pleasant scent. Use this nail polish remover both under and over the top of the nail. This way, it will remove dirt and other impurities, while offering both sides of the nail with Vitamin E. It lasts longer and removes the polish quicker than other brands.
STEP TWO
Barielle 60 Second Manicure is an instant manicure. There isn't a need to cut cuticles. The Dead Sea salts and essential oils slough off dead skin cells on your hands, and it works as a cuticle remover. There is no need to have an awkward non-dominant hand maneuvering the cuticle cutter. You can use this in between manicures to keep the hands and nails healthy, making it easier for each manicure. Keeping the hands soft and healthy looking is one of the ways to keep a manicure lasting longer.
Now that your hands and nails are clean and soft, we can use the tools we need to perfect our nails.
STEP THREE
Tweezerman Manicure Solution Kit is a one of a kind manicure set. It contains all of the tools you need to trim nails, cut hangnails, file, clean, and polish. Trim your nails if you must, but filing them down is better for the nail. Cutting your nails can damage or weaken the nail, but only cut if you must. After using Barielle 60 Second Manicure, there shouldn't be too much cuticle to push back. If any cuticles still need the extra help, push them back with a wooden manicure stick this kit provides. Use the shape/shine buffer to remove any dust from filing, and smooth out nail ridges. Now, you can prepare for polishing.
STEP FOUR
Trind Nail Balsam is the first treatment your nails need before applying any polish. It is rich in moisture, oil-free, and mimics the nails own moisture structure. Many nail strengtheners lack the needed moisture your nails need. This is not only a strengthener, but also a fast drying moisturizer specifically made for the nails.
STEP FIVE
Barielle Clearly Noticeable Nail Thickener is the next application thicker, healthier nails. This works under or over any nail polish, and you can use it as a stand-alone natural looking polish if you wish. The nail thickens and you will see those results during the manicure after you remove the polish. Your nails will no longer be brittle and you will be able to see the healthy pink color your nails should be.
STEP SIX
Trind Quick Dry is perfect to speed up polish drying. Usually a minute or two will set the color, but we recommend waiting a little longer. The drying time is one of the fastest for the polish dryers we have tested.
Manicures are simple and fun. It's amazing to see the transformation of a brittle, weak nail to a thick, deathly one after a week or two of nail treatment. The nail treatments we recommend have amazing results, and manicures last longer.
At DailySkinCare.net, we bring you the best skin care products available for your hands and nails. We bring you the best skin care tips, and only recommend the best performing skin care products, so only the best is delivered to you.
Cosmetic tools are a necessity. It is just as important to use cosmetic tools, as it is to use a skin care product or cosmetic. Some cosmetic tools help you apply your cosmetics with precision. Others are stand-alone tools to repair or improve a cosmetic need. We have found a few good choices that compliment every cosmetic bag or purse.
Tweezerman Petite Tweezer Kit Red is contains two tweezers. One is for the brows and other facial hairs. The other tweezer is for removing splinters and other foreign debris. The pointed tweezer is specifically made for precise removal, giving you an edge on perfection. You never know when you are going to get a splinter or need the extra precision. Tweezerman also offers a lifetime guarantee and you mail in your tweezers for sharpening or other fixes. This is a great bargain considering it will last a lifetime.
Tweezerman Student Cuticle Nipper is perfect for trimming the cuticles and for those occasional hangnails we get. Hangnails are a hassle to get rid of if you are not at home to access your manicure kit. This is perfect for the cosmetic case and especially good at removing tough cuticles on the feet. This cuticle nipper will last a lifetime.
TALIKA Mini Eyelash Curler is small and convenient to carry in your cosmetic bag. It will heat your lashes in seconds and it isn't bulky like the traditional oblong eyelash curler.
Colorescience On The Go Brush Kit contains for facial makeup brushes. They are very high quality and they travel well in the compact bag. These brushes are excellent for applying Colorescience makeup and skincare products. They are versatile and precise. Tip: Clean brushes often. These brushes eminence brushes withstand many washes and uses.
Colorescience Brush Cleanser is the cleanser we recommend for cleaning all your cosmetic brushes. This cleaner also contains tea tree oil, which will help those who have acne or combination skin. If you have an infection or acne, clean the brushes after each use. Sometimes using the same brush everyday without cleansing will create more debris on the skin and cause acne breakouts.
DuWop Beauty Blade is an all-in-one eye and lip pencil sharpener. This is great to have all of your sharpening needs in one tool. Cosmetic sticks for eyeliner, eye shadow, and lips come in different sizes; some are thin and some are thick. Now, it won't matter. One side of the sharpener is for thicker cosmetic pencils, while the other side provides sharpening for the thinner ones. It is inconvenient to have multiple pencil sharpeners in a cosmetic bag, so consider downsizing your sharpening needs in your bag.
Skindinavia Makeup Finishing Spray sets makeup so it won't run during the day, even in rain and humidity. It keeps the makeup colors stable and lasting longer. It's oil-free so it won't interfere with acne prone skin types. This finishing spray will also keep your cosmetics lasting longer because you won't need to reapply makeup throughout the day.
These are the perfect additions to any cosmetic bag. DailySkinCare.net has found the best cosmetic tools to assist you in your health and beauty needs.