A good wax will make your skin feel smooth, fresh, and clean. If you make careful choices in your waxing regime, you can achieve radiant, pain-free results.
Waxing is a personal choice. Some prefer to shave, while some prefer to wax. The downside to shaving is that once you shave, hair becomes thicker and grows faster. You will need to shave more often to remove hair. On the other hand, waxing will remove hair up to four weeks, saving you time and money in the long run. When waxing, the hair is pulled out from the hair's root. Hair will grow back slower and finer.
We suggest waiting two weeks and letting the hair grow out a little before waxing. This way, is efficient because it creates a stronger, more precise pull or strip, so we can get the hair pulled directly from the root, rather than just the hair on the skin. Our recommended waxing kits can remove even the shortest hairs. Like shaving, waxing can cause ingrown hairs, so we need to exfoliate before waxing to prevent that from happening. Just in case there are skin flare-ups or trapped hair, we have a solution to that too.
EXFOLIATE BEFORE WAXING
We recommend exfoliating with a brush over any other exfoliating method. This is because some skin care products have added ingredients that can irritate shaved or waxed skin, falling into the hair follicle or shaft while shaving. This happens when the exfoliating scrub isn't rinsed off completely, leaving behind beads or other pumice-like particles. These particles get caught in the razor and have the potential to damage the razor or your skin. We highly recommend exfoliating a day before your waxing treatment and exfoliating in between shaving sessions to ensure a comfortable and safe shave.
WAXING KITS
Bliss Poetic Waxing Kit is one of our favorites because this wax can be used anywhere on the body or face. Most wax removal skin care products target a specific area for waxing such as facial, bikini, or legs. With this kit, you can apply it anywhere, eliminating the need to buy multiple waxing kits. Bliss Poetic Waxing Kit also has the ability to grab even the shortest hairs. This eliminates the need to grow you hair out long before doing a waxing treatment, unlike other waxing kits. The kit contains everything you need such as waxing lotion, wax, and several spatulas that fit your needs. We like the precision in this wax formula because it is colorful and you can easily see where the wax is being applied.
Since Bliss Poetic Waxing Kit is an all around kit, never needing anything else for waxing, why bother getting another kit? We recommended the Bliss Poetic Brow Shaping Sugar Wax for traveling or quick uses at the gym or spa. This kit comes with the cloth waxing strips for precision on waxing the brows. It also comes with calming balm to quickly heal and calm the treated area. It's great to pack in your suitcase, gym bag, or tote.
WAX RECOVERY
The Art Of Shaving Women's Ingrown Hair Night Cream is a great skin care product for those who are prone to ingrown hairs. If ingrown hairs are not treated, it may cause infection, irritation, and bacteria growth. Ingrown hair can be plucked or manipulated out of the skin, but some areas are hard to treat. For instance, if you have had a Brazilian wax, then it may be hard to pluck or maneuver the ingrown hair. Some places are harder to reach or see to remove the hair by hand or tweeze. This is why we recommend The Art of Shaving Women's Ingrown Hair Night Cream. It unclogs pores, and moisturizes the area, eliminating the discomfort from itching and irritating symptoms. Extracts containing salicilin, releases trapped hair, and the botanicals in this cream help repair the irritated skin as the hair is released.
At DailySkinCare.net, we are committed to finding the best products available to keep your legs smooth and hair-free. We only recommend the best, so they can be delivered right to your door.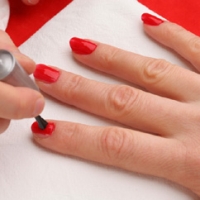 Manicures compliment pretty hands. Sometimes it is difficult maneuvering manicure tools, such as cutting cuticles with your non-dominant hand. Doing a manicure at home is simple and affordable. It only takes a couple of staples, using some of the finest skin care products available. These products should last quite a while, and the cosmetic tools have a lifetime guarantee. Here is a step-by-step approach to an easy, hassle-free manicure.
STEP ONE
Remove any nail polish with Barielle Acetone Free Nail Polish Remover. It is non-drying and contains Vitamin E. We like the easy to use pump and the pleasant scent. Use this nail polish remover both under and over the top of the nail. This way, it will remove dirt and other impurities, while offering both sides of the nail with Vitamin E. It lasts longer and removes the polish quicker than other brands.
STEP TWO
Barielle 60 Second Manicure is an instant manicure. There isn't a need to cut cuticles. The Dead Sea salts and essential oils slough off dead skin cells on your hands, and it works as a cuticle remover. There is no need to have an awkward non-dominant hand maneuvering the cuticle cutter. You can use this in between manicures to keep the hands and nails healthy, making it easier for each manicure. Keeping the hands soft and healthy looking is one of the ways to keep a manicure lasting longer.
Now that your hands and nails are clean and soft, we can use the tools we need to perfect our nails.
STEP THREE
Tweezerman Manicure Solution Kit is a one of a kind manicure set. It contains all of the tools you need to trim nails, cut hangnails, file, clean, and polish. Trim your nails if you must, but filing them down is better for the nail. Cutting your nails can damage or weaken the nail, but only cut if you must. After using Barielle 60 Second Manicure, there shouldn't be too much cuticle to push back. If any cuticles still need the extra help, push them back with a wooden manicure stick this kit provides. Use the shape/shine buffer to remove any dust from filing, and smooth out nail ridges. Now, you can prepare for polishing.
STEP FOUR
Trind Nail Balsam is the first treatment your nails need before applying any polish. It is rich in moisture, oil-free, and mimics the nails own moisture structure. Many nail strengtheners lack the needed moisture your nails need. This is not only a strengthener, but also a fast drying moisturizer specifically made for the nails.
STEP FIVE
Barielle Clearly Noticeable Nail Thickener is the next application thicker, healthier nails. This works under or over any nail polish, and you can use it as a stand-alone natural looking polish if you wish. The nail thickens and you will see those results during the manicure after you remove the polish. Your nails will no longer be brittle and you will be able to see the healthy pink color your nails should be.
STEP SIX
Trind Quick Dry is perfect to speed up polish drying. Usually a minute or two will set the color, but we recommend waiting a little longer. The drying time is one of the fastest for the polish dryers we have tested.
Manicures are simple and fun. It's amazing to see the transformation of a brittle, weak nail to a thick, deathly one after a week or two of nail treatment. The nail treatments we recommend have amazing results, and manicures last longer.
At DailySkinCare.net, we bring you the best skin care products available for your hands and nails. We bring you the best skin care tips, and only recommend the best performing skin care products, so only the best is delivered to you.