Posts Tagged 'Skin Conditions'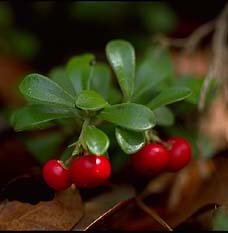 Historically, Bearberry has been one of the most successful treatments of urinary tract infections, kidney stones, and a host of other illnesses. Bearberry is a powerful tonic for the body, and its antiseptic properties are excellent for the skin as well. Bearberry is one of the many ingredients that are becoming more prominent in skin care products today. Cosmetic companies are seeing the need to create skin care products with natural ingredients to fight skin conditions and offer safer alternatives, especially for those with sensitive skin and allergies.
Common antiseptics like witch hazel are still widely used today to treat wounds, acne, and other skin conditions. Natural resources like herbs and berries were the only form of medicinal or cosmetic treatment available. Now, these natural enhancements are making way to today's mainstream cosmetics. These cosmetics happen to be the most successful product lines available to combat a variety of skin conditions.
One of the little known secrets to bearberry is the hypopigmenting component. This component has a whitening effect on the skin, making bearberry perfect for those want to treat freckles, age spots, or vitiligo. Used alone, bearberry can dramatically change the tone and color of the skin. Because of the powerful whitening effects, bearberry is combined with other ingredients in cosmetics to have a subtle effect on the skin. This way, the bearberry will be mild enough to lighten problem areas without overbleaching. Used regularly, bearberry can remove the most stubborn pigmented areas of the skin.
Another benefit to the potent properties of Bearberry is the bacteriostatic action that works against Staphylococci, the staph responsible for the MRSA superbug. Any skin care product with Bearberry may also help the fight against the superbug, in addition to the other benefits for the skin.
Bearberry also increases the cell turnover rate and it is an excellent antioxidant. It works to fight free radicals, preventing additional skin conditions, and works as a natural sunscreen.
Too much sun exposure can cause skin cancer, and the first sign of skin cancer is the presence of melanoma, usually in the form of freckles, age spots, and moles. Bearberry can reverse the damage from the sun, and may very well play a role in the prevention of skin cancer.
Various studies have concluded the benefits and the risks of using sunscreen. Dermatologists only look at the skin, so they are going to recommend using a sunscreen. While sunscreen may block out the sun's rays, it will also block out the needed Vitamin D component, the same component responsible for the prevention of breast and other cancers. It may seem like a catch 22, but keep in mind that natural ingredients like bearberry will let you have your cake and eat it too. With Bearberry, you can enjoy the sun, reverse the signs of sun damage, and protect against further damage of the sun.
Bearberry, like any other herb or medicinal remedy, is not allergy-free for everyone.
Aromatherapy does more than improve our moods and overall health. Today, skin care products offer us a variety of choices in aromatherapy products that are as good for the skin as they are for our well being.
Aromatherapy is the practice of using volatile plant oils for mental and physical well-being. Essential oils have powerful antioxidant properties, improve our moods, and help the body heal on its own. For instance, lavender essential oil is a powerful antiseptic, soothes cuts and burns, and has a calming effect as a stress-reliever. Lavender also diminishes the pain of migraine and common headaches. Eucalyptus is used to clear sinus passages during the flu and allergy season. Eucalyptus is commonly combined with Peppermint essential oil, which is also known to clear nasal passages, throat, and lungs. Peppermint is also rejuvenating and uplifting. Geranium essential oil has many uses and applications. Geranium oil is a perfect treatment for many skin conditions and is one of the few treatments that help both oily and dry skin. Geranium opens the pores, cleaning and clarifying them, while acting as a moisturizer. It has calming properties similar to the effects of lavender.
These are only a few examples of aromas available to help your body and skin. Research shows that mice undergo behavioral changes after exposure to certain airborne scents. Particularly, Lavender and Sandalwood proved to have calming effects in mice under laboratory environments. Aromatherapy is stress relieving, and managing stress is the number one prevention measure recommended by doctors, to reduce high blood pressure, heart problems, and other health conditions.
Skin care products with aromatherapy effects are high in demand right now because they treat the senses as well as the skin. Why not have a bottle that does it all? Here at DailySkinCare.net, we are offering you the best skin care products on the market with the most innovative and effective aromatherapy options that are as good for your skin as they are for your senses.
EmerginC Lavender Toner contains calming lavender, and it's a great toner for all skin types. Some of the special properties in this bottle include Chamomile, balm mint, and lavender. Balm mint has antiviral properties that clean and disinfect the skin, while chamomile and lavender are smoothing for both the skin and the body. This is an excellent pick-me-up to revive and renew the senses as well as the skin.
L'Occitane Ruban D'Orange Eau de Toilette is a special treat from the oranges in the Mediterranean. This is a unisex scent, and the scent lasts for days. This is a bargain since the aromatherapy fragrant will last more than 10 times the amount than any other skin care product for aromatherapy.
June Jacobs Aroma Mineral Mist is loaded with vitamins and minerals. Lavender, sandalwood, sage, and ylang ylang are just some of the few mood-enhancing ingredients used in this spray. It's an excellent source of vitamins for the skin and the psychological effects are immediate and profound.
Colorescience Spritzers are the best on the market right now for immediate relief of stress symptoms, and that's not all. Colorscience Spritzers come in a variety of aromas and each can contains a color stone gem to bring out the essence and power of each aromatherapy bottle. Our favorite is the Rise and Shine edition that refreshes and invigorates our senses. This one is great at perfecting oily and combination skin types, and it's excellent before a workout or a workday. Other editions of Colorscience Spritzers are On the Mend, Dream Weaver, Treasured Moments, Incredible Romantic, and Be Still.
B. Kamins Flower Water Treatment Spray is a flowery aroma with a special ingredient of Bio-Maple. Bio-Maple is a skin conditioner and softener, great for all skin types. B. Kamins Flower Water Treatment Spray is alcohol free, making it the perfect hydrating mist that will not clog pores, while delivering aroma therapeutic effects. It also contains Vitamin C, a needed vitamin for the body and skin.
At DailySkinCare.net, we have trusted all our senses, not just our nose. We have found some of the best skin care products in aromatherapy that are as good for the skin as they are for the senses. We have taken the stress out of finding the best, so the best can be delivered right to you.